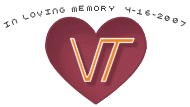 May God continue to comfort those families, students, and staff
who are mourning due to the Virginia Tech Tragedy on
April 16, 2007.
Lori, from Heaven Graphics is making available for free, several versions of the Virginia Tech memorial graphic, in memory of students and staff who lost their lives on April 16, 2007. If you would like to pick one up for your blog or website, please visit Lori's site using the button link above.
Thank you Lori for helping each of us memorialize this tragedy!

See my post on April 17, 2007 to add your link in a virtual prayer circle for Virginia Tech.