Children are God's best gift. Psalms 127:3

In remembrance of our sweet daughter, we would like to share a few pictures by way of the slide show above, as well as some of our loving memories in celebration of her life.


Our daughter was born in 1974 and passed away in April 2003 at the young age of 29 years old due. Her passing was due to complications of Type 1 insulin-dependent Juvenile Diabetes which she was diagnosed with at the age of 10. She remained healthy while growing up other than having diabetes. At the time of her passing, her twin girls were only 8 years old. She loved her little girls dearly and they love and miss their mommy so very much. They now live with their father in another state and we usually get to see them for 4 to 6 weeks during the summer, at Christmas, and sometimes on other occasions if it works out since they live almost 2,000 miles away. Moving away to another state was very hard on them for a long time as they lived in this state when their mommy passed away, plus their mother is buried here.


MEMORIES
I remember the day I drove "B" to the first sonogram appointment as her husband couldn't be off work to go with her. The nurse doing the sonogram kept staring at the screen as if she couldn't believe what she was seeing. She then told "B" I see two babies, did you know you were having twins? "B" and I both quickly turned our heads and stared at each other in amazement, and then turned back to look at the screen. "B" quickly stated, no, the doctor never told me I was having twins. The nurse then said, well, you are definitely having twins! She then pointed to the screen and showed both of us the outline of the two babies. We were both so very happy and "B" told me no one would believe us, especially her husband. We left there ecstatic thinking of not one, but two babies! Her husband was really happy as was the rest of the family. Her pregnancy went very well. She was hospitalized for the last 3-4 weeks of her pregnancy to monitor her glucose levels and delivered her twins two weeks early. They each weighed exactly 5 lbs and 5 1/2 ounces. They have no health problems other than one having seasonal allergies and the other with seasonal allergies and asthma. It's amazing to watch them grow up, especially since her first gynecologist suggested she abort the pregnancy. She changed doctors and hospitals and received very good prenatal care.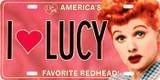 "B" was an avid I Love Lucy fan and collector of I Love Lucy Show memorabilia; including several types and sizes of Lucy, Ricky, Ethel and Fred dolls, collector plates, purses, clocks, pictures, a lamp ... and well really, everything she could find and had the extra funds to purchase. Many of the items she obtained were given to her as gifts; others she found at places such as the Lucille Ball - Desi Arnaz Center in Jamestown, New York, eBay auctions, flea markets, garage sales, and from Cathy's Closet, an online Lucy store. She always wanted to attend one of the Lucy-Desi Festivals held yearly, however, her health was never strong enough to make the trip.



There were two additional collections "B" had started including Raggedy Ann and Andy and Campbell's Soup decor and dishware. She had totally decorated her entire kitchen in all things having to do with Campbell's Soup and absolutely loved her Campbell's Soup kitchen. It was totally cute! She didn't have near as much Campbell's or Raggedy Ann and Andy items as she did her I Love Lucy memorabilia. Our family always knew what to get her for birthdays, Christmas, or other special occasions. Her collections are being saved for her twin girls.


Our daughter also loved God and wanted to serve Him by working in the church nursery rocking babies while their parents attended services, and while her twin girls were in Sunday School class. She was faithful to this even showing up when her health was failing. As long as she felt strong enough to stand and to hold the babies, they could definitely count on her being there. They also called on her when others could not keep their commitment as she was such a reliable little worker.



If you have seen the movie Steel Magnolias which was released in 1989, it may help you to understand what happened to our dear daughter's little body after giving birth to her twin girls. It was much like "Shelby" went through in Steel Magnolias. In the movie, Shelby has Type 1 Diabetes, and her character is played by Julia Roberts. The character of her mother, M'Lynn, is played by Sally Field. The story involves not only Shelby's marriage which is a huge celebration, but the later struggles between Shelby and her mother who is totally against Shelby getting pregnant due to her own fears of her daughter's health deteriorating. Shelby continues to insist she will have a child when the time is right. It's a very beautiful and moving movie which brought me to tears even though "B" was not yet pregnant when the movie was released. The movie is still a favorite of mine even though it is even harder for me to watch now.



There are two additional blog posts I wrote earlier regarding our daughter; one on her birthday, January 13, 2007, entitled Daughter Happy Birthday in Heaven! Forever 29. I shared how we were able to handle our grief because of our strong faith, belief, and loving trust in our Savior, Jesus Christ. The second blog post on our daughter was written on February 12, 2007, and is titled Loss of our Child which shares more regarding "B's" passing, as well as including recommended grief books and grief resources for adults and children.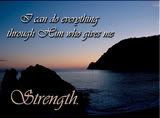 She is forever on our minds and in our hearts. Not a day goes by that I don't think of her. It was an emotionally painful time losing her, not only for us, but you can imagine what her girls went through losing "mommy". Please know ... we have a strong faith in God. It is GOD that got us through this painful time by picking each of us up out of the deep pit of our despair and loving us through our grief. My dear husband and I could never imagine dealing with the grief of losing anyone in our life without God filling that gaping hole within us. Our daughter's twin girls will be 13 this year and their faith and love for God is amazing. Each of us know WITHOUT ANY DOUBT WE WILL be with her again when we all get to Heaven.


Today on the four year anniversary of her passing, we sing praises to God for His love, peace, and comfort, as we celebrate our dear daughter's life with loving memories and a heart full of thankfulness to God for His faithfulness.